Jewish Interest Book Club with Rabbi Panken
Upcoming Sessions
1. Wednesday, January 12, 2022
•
10 Sh'vat 5782
7:00 PM - 8:00 PM
TBD
2. Thursday, March 24, 2022
•
21 Adar II 5782
7:00 PM - 8:00 PM
TBD
3. Wednesday, May 11, 2022
•
10 Iyar 5782
7:00 PM - 8:00 PM
TBD
Past Sessions
Thursday, November 18, 2021

•

14 Kislev 5782

-

7:00 PM - 8:00 PM

-

on Zoom
Thursday, November 18, 2021 7:00-8:00 p.m. on Zoom Registration Required
The Out­skirts of Hope: A Mem­oir of the 1960s Deep South
1n 1967, when Jo Ivester was ten years old, her father trans­plant­ed his Jew­ish fam­i­ly from a sub­urb of Boston to an all-black town in the Mis­sis­sip­pi cot­ton fields so that he could become the med­ical direc­tor of a clin­ic meant to serve the poor­est region in the nation. Her moth­er was recruit­ed to teach at the local high school, where she became a beloved and some­times con­tro­ver­sial fig­ure who intro­duced black lit­er­a­ture into the cur­ricu­lum. Ivester builds on jour­nals left by her moth­er to paint an inspir­ing por­trait of her family's expe­ri­ences and a town deal­ing in a unique way with the racism that still grips our nation today. She describes how her moth­er helped her stu­dents to under­stand that the anti-Semi­tism that flour­ished through­out much of the Deep South was sim­i­lar to the hatred that they faced as black Americans.
Wednesday January 12, 2022 7:00-8:00 p.m. (Location TBD)
From the National Book Award–winning and bestselling author of Let the Great World Spin comes an epic novel rooted in the unlikely real-life friendship between two fathers. Bassam Aramin is Palestinian. Rami Elhanan is Israeli. They inhabit a world of conflict that colors every aspect of their lives, from the roads they are allowed to drive on to the schools their children attend to the checkpoints, both physical and emotional, they must negotiate.
But their lives, however circumscribed, are upended one after the other: first, Rami's thirteen-year-old daughter, Smadar, becomes the victim of suicide bombers; a decade later, Bassam's ten-year-old daughter, Abir, is killed by a rubber bullet. Rami and Bassam had been raised to hate one another. And yet, when they learn of each other's stories, they recognize the loss that connects them. Together they attempt to use their grief as a weapon for peace—and with their one small act, start to permeate what has for generations seemed an impermeable conflict.
This extraordinary novel is the fruit of a seed planted when the novelist Colum McCann met the real Bassam and Rami on a trip with the non-profit organization. McCann was moved by their willingness to share their stories with the world, by their hope that if they could see themselves in one another, perhaps others could too.
With their blessing, and unprecedented access to their families, lives, and personal recollections, McCann began to craft Apeirogon, which uses their real-life stories to begin another—one that crosses centuries and continents, stitching together time, art, history, nature, and politics in a tale both heartbreaking and hopeful. The result is an ambitious novel, crafted out of a universe of fictional and nonfictional material, with these fathers' moving story at its heart.
Thursday, March 24, 2022 7:00-8:00 p.m.
(Location TBD)
The Only Woman in the Room
She was beautiful. She was a genius. Could the world handle both? A novel about Hedy Lamarr.
Hedy Kiesler is lucky. Her beauty leads to a starring role in a controversial film and marriage to a powerful Austrian arms dealer, allowing her to evade Nazi persecution despite her Jewish heritage. But Hedy is also intelligent. At lavish Vienna dinner parties, she overhears the Third Reich's plans. One night in 1937, desperate to escape her controlling husband and the rise of the Nazis, she disguises herself and flees her husband's castle.
She lands in Hollywood, where she becomes Hedy Lamarr, screen star. But Hedy is keeping a secret even more shocking than her Jewish heritage: she is a scientist. She has an idea that might help the country and that might ease her guilt for escaping alone—if anyone will listen to her.
Wednesday, May 11, 2022 7:00-8:00 p.m.
(Location TBD)
Once a Girl, Always a Boy: A Family Memoir of a Transgender Journey
My son Jere­my is transgender. Thir­ty years ago, we welcomed him into the world as what we thought was our daughter. As a child, however, he preferred the toys and games our society views as masculine. He kept his hair short and wore boys' clothing. We called him a tomboy. That's what he called himself.
In his twen­ties, Jere­my had surgery to remove his breasts and began taking hormones to lower his voice and give him a beard. My book, Once a Girl, Always a Boy, is the sto­ry of Jeremy's difficult yet joyful journey. It is told from multiple perspectives. Those of the siblings who struggled to understand the brother they saw as a sister, and of the parents who joined him in the battle against discrimination, beginning the day his father announced to seven hundred attendees at an ADL dinner that he has a transgender son, that he is proud of him, and that he loves him. This is a story of acceptance in a world not quite ready to accept.
Share Print Save To My Calendar
Sat, December 4 2021
30 Kislev 5782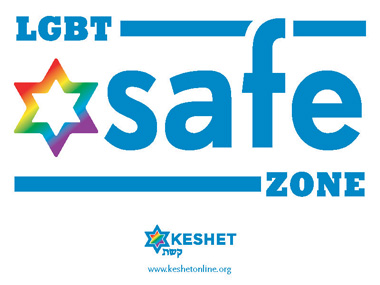 Sat, December 4 2021 30 Kislev 5782