Virtual Self-Help and Recovery Programs
Support Groups
Covid Answers & Coping Strategies
For strategies coping with COVID stress, join us for Pt. 3 of our 3-part series with psychologist, Dr. Kerri Weiss PhD, Monday Apr. 13 at 7PM. SIGN-UP HERE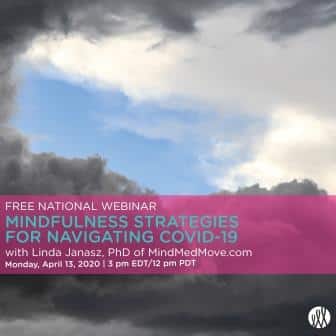 Learn the science behind mindfulness and how it can help you deal with the physical, spiritual discomfort of this moment from Linda Janasz, PhD of MindMedMove.com. Come away with four new tools and strategies you can immediately start using to find more ease in this time of seemingly constant distraction and stress. Send us your questions for Linda in advance! Email Aimee Sax to have your question addressed during the FREE national webinar, or for more information. Click here to register.
Domestic Abuse and Sexual Violence
180 Turning Lives Around empowers survivors and families affected by domestic violence and sexual assault to find the courage and strength to turn their lives around. 180 supports this mission through: 24/7 hotlines – including the 2NDFloor Youth Helpline, counseling, legal advocacy, emergency shelter and transitional housing and art, play and music therapy for children. 180 Turning Lives Around is a non-profit 501(c)(3) organization
Hotline
Our trained counselors are here for you. You can immediately reach our hotlines for support 24/7 as follows:
Domestic Violence:

1-888-843-9262

Sexual Violence:

1-888-264-RAPE

2NDFLOOR Youth Call and Text Helpline:

1-888-222-2228
Safe House
Our emergency shelter is completely operational. Please contact our hotline if you need these services. In an immediate emergency, call 911.
Recovery Programs
VIRTUAL WEEKLY MEETINGS
To accommodate the recent COVID-19 crisis, JACS* will be partnering with Our Jewish Recovery and The T'Shuvah Center and hold weekly virtual meetings for those in recovery and their loved ones. These meetings are open to Jews across the country who want to meet and discuss.

12 Step JACS Meeting
Every Monday at 7:30 pm
12 Step open meeting.
Join us by dialing (515) 603-3118, passcode 793614

OUR JEWISH RECOVERY Meeting
Every Tuesday at 2:00 pm
Open Meeting
Zoom Info

12 Step JACS MEETING
Every Tuesday, at 7:00 pm
Zoom Info

RECOVERY Torah Study
Every Wednesday at 2:00 pm
Zoom Meeting

12 Step JACS Meeting
Every Wednesday at 7:00 pm
Join by dialing (712) 432-0075, passcode 895743#
*JACS is the acronym for Jewish Alcoholics, Chemically Dependent Persons and Significant Others
Other Mental Health Resources
Learn more about tips to cope with stress and build resilience in times of crisis.
CDC RECOMMENDATIONS FOR STRESS
Fear and anxiety can be overwhelming and cause strong emotions in adults and children. Coping with stress will make you, the people you care about, and your community stronger. Learn more about the CDC's recommendations for things you can do for yourself, your family, and friends here.

12 WAYS TO DEAL WITH STRESS AND ANXIETY
Various times and dates
Zoom Info and Registration
Join IsraAID, Israel's leading humanitarian aid organization, for a self-care/mental health online session with trauma expert Dr. Debra Kalmanowitz. These sessions offer strategies and resources to improve emotional well-being.

STRESS REDUCTION
The Institute for Jewish Spirituality is offering opportunities for anyone who is looking for some moments of calm, centeredness, and clarity. You can find more information here.
Wed, September 27 2023 12 Tishrei 5784