Annual Appeal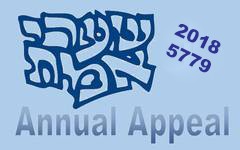 It is hard to believe that the holy days have come and gone. It was such a special and meaningful celebration. The warmth and sacred atmosphere enhanced this year's celebration of our commitment to Judaism.
When you walk in the Temple it is bustling with life, between our schools and the programs we offer for every age and interest. There is so much inspiration to be found in our community.
What makes Shaari Emeth so special is that we put our values into action in so many important ways. We support Open Door, and the TSE Homeless Shelter Program. Tikkun Olam (repairing the world) is central to what we do as a community. We collected over 3,000 pounds of food on Yom Kippur for Open Door – enough to feed more than 60 families for a month. We have Temple members who visit patients at CentraState and Pine Brook Nursing Home. We deliver meals to congregants who are ill or have just welcomed a new baby into their home. We don't just pray for those in need, we partner with God to go out and make a difference.
Your donation to the 5779 Annual Appeal, will help us to "live our values" in the coming year. Our goal is to reach 100% participation. Whether $18 or $1800, every gift makes a difference. With a gift of $500 or more, you will be recognized as a Mitzvah Member, and measurably add to the future of the Temple. If you have already given, we thank you. If not, please consider making a donation now. Your gift to Shaari Emeth ensures that Judaism remains vibrant and meaningful for us and for the generations who will follow.
Joan Fischer Rabbi Melinda Panken
Mon, September 23 2019 23 Elul 5779