Scholars in their ResidencesPreparing our Souls for the Holy Days
Congregation Beth Ohr Congregation Torat El Marlboro Jewish Center Monmouth Reform Temple Temple Beth Ahm of Aberdeen
Temple Beth Shalom Temple Rodeph Torah Temple Shaari Emeth Temple Shalom of Aberdeen
Together we invite you to enjoy this incredible online community learning opportunity
with some of the world's leading Jewish scholars.
Wednesday, August 12, 2020 7:30-8:45 p.m.
"Who Shall Live and Who Shall Die…": The Most Celebrated — and Disturbing High Holy Day Prayer of All: and a Detective-like Quest for Its Origins
with Rabbi Larry Hoffman
Unetaneh tokef, the prayer that asks the question, "who shall live and who shall die?" is one of the most familiar and most challenging prayers in the machzor. These words tend to rattle us, making real the precarious nature of life. How can we understand and make sense of this prayer? How did it develop, what are its origins and why has it become one of the most central and well known prayers in our holy day worship?
---
Dr. Lawrence A. Hoffman was ordained as a rabbi in 1969, received his Ph.D. in 1973, and is now Professor Emeritus at the New York campus of the Hebrew Union College - Jewish Institute of Religion, where he served for almost half a century. His teaching and research interests include liturgy, ritual, and worship; spirituality and theology; evolving American religion; and synagogue transformation and leadership.
For over half a century, he has combined research, classroom teaching, and a passion for the spiritual renewal of North American Judaism. He is known internationally for his lectures to popular audiences and his spiritual approach to synagogue consultation.
Rabbi Hoffman has written or edited forty-five books to date, including My People's Prayer Book, My People's Passover Haggadah and Prayers of Awe, an eight-volume commentary on the prayers of the High Holy Days. For many years, Rabbi Hoffman served as visiting professor at the University of Notre Dame. In addition, he has lectured at such places as the Jewish Theological Seminary of America, the University of Southern California, and the Yale Divinity School.
In 1994, he co-founded "Synagogue 2000," a trans-denominational project to envision the ideal synagogue "as moral and spiritual center" for the 21st century. He lives with his wife in the greater New York area, where, in retirement, he continues to think and to write about issues of moment; and to travel to congregations to lecture and advise. He can be followed on his blog: "Life and a Little Liturgy."
Wednesday, August 19, 2020 7:30-8:45 p.m.
The Problem and Promise of Words -- Considering the Significance of Kol Nidrei
with Rabbi Eliezer Diamond
Kol Nidre is simultaneously moving and confusing. Why does it have such prominence in our Yom Kippur liturgy? We will look a bit at its history and the struggles over its place in the Yom Kippur service and we will consider how Kol Nidre can be seen as clarifying the central mission of Yom Kippur.
---
Rabbi Dr. Eliezer Diamond is the Rabbi Judah Nadich Associate Professor of Talmud and Rabbinics at JTS. He teaches courses in rabbinic literature in addition to introductory, intermediate, and advanced Talmud study. In 2003 Eliezer published Holy Men and Hunger Artists: Fasting and Asceticism in Rabbinic Culture. The book provides a thorough reassessment of the role that asceticism plays in rabbinic Judaism, suggesting that asceticism is more pervasive than is generally thought. He is the editor of a forthcoming volume containing a commentary on Yerushalmi Pesahim by the late Professor Louis Ginzberg accompanied by a historical and methodological introduction. His current project is a book about prayer. The prayer volume will address the problem of cognitive dissonance for the contemporary worshipper and will offer readings of traditional liturgy that use midrashic methodology to find meaning and relevance in these prayers for the modern Jew.
Wednesday, August 26, 2020 10:00-11:15 a.m. EST
The Vidduiy /Confessional Prayer: Origins, Psychological and Sociological Aspects, Classical and Innovative Versions
with Rabbi Dalia Marx (joining us from Israel)
People often don't realize that Judaism has a tradition of confession. Come explore the origins of the communal and personal practice, the effect that it has on us both as individuals, and as a community, and experience both ancient and modern innovative versions of this prayer.
---
Rabbi Dalia Marx, Ph.D., is the Rabbi Aaron D. Panken Professor of Liturgy and Midrash at HUC-JIR's Taube Family Campus in Jerusalem, and teaches in various academic institutions in Israel and Europe.
Marx, tenth generation in Jerusalem, earned her doctorate at the Hebrew University and her rabbinic ordination at HUC-JIR in Jerusalem and Cincinnati in 2002. She is involved in various research projects and is active in promoting liberal Judaism in Israel. Marx writes for academic and popular journals and publications.
She is the author of When I Sleep and When I Wake: On Prayers between Dusk and Dawn (Yediot Sfarim, 2010, in Hebrew), A Feminist Commentary of the Babylonian Talmud (Mohr Siebeck, 2013, in English), About Time: Journeys in the Jewish-Israeli Calendar (Yediot Sfarim, 2018, in Hebrew) and the co-editor of a few books. She recently co-authored the new Israel Reform Siddur, T'filat HaAdam. Marx lives in Jerusalem with her husband Rabbi Roly Zylbersztein (PhD) and their three children.
Sunday, August 30, 2020 11:00 a.m. -12:00 p.m.
Rock Into the New Year
with Rebecca Shoffer
Join singer songwriter & Jewish educator, Rebecca Schoffer for a playful, interactive New Year celebration! Get ready to rock your way into Rosh Hashanah with Rebecca (and her puppets!) This Zoom gathering will be filled with singing, dancing and meaningful reflections for the whole family. We may not be together in person, but we can celebrate the NEW year a NEW way!
---
Rebecca Schoffer is the Director of Jewish Family Engagement and the leader of the Shababa community at the 92nd Street Y in New York City. She is a musical and experiential Jewish educator, a singer songwriter, cantorial soloist and a playwright of family theater. Rebecca brings her background in theater, acting, music and improvisation to the Jewish educational space, travelling around the world to lead Jewish musical celebrations for families and teach workshops for educators. Rebecca was a recipient of the 2019 Young Pioneers Award, which celebrates innovative Jewish educators. Rebecca's music is available on Spotify and other streaming sites, so you can sing and dance along at home anytime. (Stay tuned for her new album of Jewish family music being released in 2020!) For more info check out www.RebeccaSchoffer.com.
Wednesday, September 2, 2020 7:30-8:45 p.m.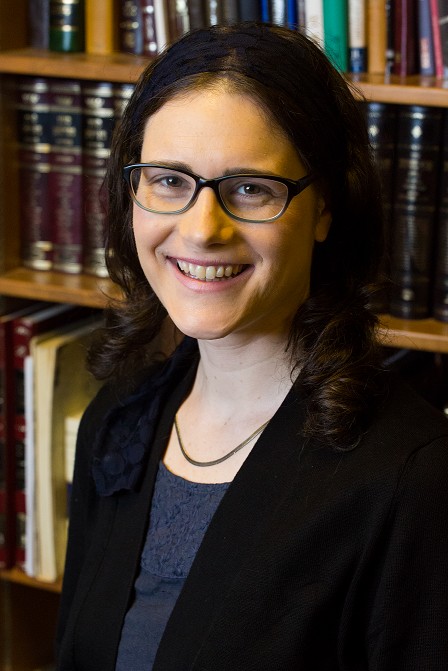 Hayom Harat Olam: How Can We Recreate Our World?
with Rabbi Aviva Richman
As we approach Rosh ha-Shanah in a year when the world may feel like it's on the brink of collapse, we have to ask ourselves what it takes for the world to be born anew. We will study a collage of rabbinic sources woven together in R. Yitzhak Hutner's collected essays on Rosh ha-Shanah to confront and embrace what it means to face God and face ourselves and the task that lies ahead.
---
Rabbi Aviva Richman is a Rosh Yeshiva at Hadar, and has been on the faculty since 2010. A graduate of Oberlin College, she studied in the Pardes Kollel and the Drisha Scholars' Circle and was ordained by Rabbi Danny Landes. She is completing a doctorate in Talmud at NYU. Interests include Talmud, Halakhah, Midrash and gender, and also a healthy dose of niggunim.
Sat, September 26 2020 8 Tishrei 5781