Recent TSE Emails
This Week & Next at Temple Shaari Emeth
06/12/2018 03:19:19 PM
The Men's Club, still recovering from their heart-breaking loss in the softball game against the Temple Beth Miriam Men's Club, has recovered from the loss to lead the service on Friday night, accompanied by the Temple Shaari Emeth Choir.
Ten of TSE's finest Men's Club athletes came to play for a tough road game against our rival in Temple Beth Miriam.  After TBM took an early lead we managed to tie the game up in the 3rd inning.  As the later innings moved along TSE showed some fatigue and ended up on the short end of the 10-4 final score.  Both teams had a lot of fun, nobody got hurt and all enjoyed a hot dog after the game.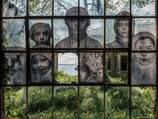 Trip to Ellis Island: Hard Hat Tour of the Hospital Complex
Join the Lifelong Learning Committee on June 24th for a Hard Hat Tour of the abandoned hospital complex on Ellis Island, which has been closed and abandoned for 60 years. 

Click for more information and to register.
Tuesday, June 12
6:00p Religious School Committee Meeting
7:30p Adult Choir Rehearsal
7:30p Men's Club Service Rehearsal
Wednesday, June 13
Last Day of ELC Classes
11:00a Torah Study
7:30p Men's Club Service Rehearsal
Thursday, June 14
11:00a ELC Graduation
7:30p
Sisterhood End of Year Dinner

Erev Shabbat, June 15
7:30p Men's Club Shabbat Service
Shabbat, June 16
9:00a Torah Study
10:30a Morning Service
Bar Mitzvah of Eric Castner
Bat Mitzvah of Kathleen Castner
10:30a Services at Pine Brook Care Center
Sunday, June 17Monday, June 18
ELC Extended Week
Tuesday, June 19Wednesday, June 20
11:00a Torah Study
Thursday, June 21
7:30p Board of Trustees Meeting
Erev Shabbat, June 22
7:30p Shabbat Service
Shabbat, June 23
9:00a Torah Study
10:30a Morning Service
Bar Mitzvah of Brady Bonomo
Bat Mitzvah of Allison Sack
Sunday, June 24
9:00a
Trip to Ellis Island: Hard Hat Tour of the Hospital Complex
Mon, June 17 2019 14 Sivan 5779